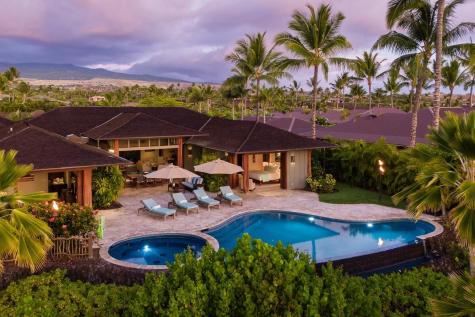 Kukio Golf and Beach Club Real Estate
Kukio Golf and Beach Club is an exquisite residential community nestled along the Kona Coast of the Big Island in Hawaii. This exclusive destination spans approximately 1,100 acres of prime oceanfront property, offering discerning home buyers an unparalleled living experience. Situated between the captivating town of Kailua-Kona and the historic Kealakekua Bay, Kukio boasts breathtaking views of the Pacific Ocean, complemented by the enchanting presence of neighboring islands such as Maui and Lanai.
At the heart of Kukio Golf and Beach Club lies a private and pristine white-sand beach, providing residents with direct access to the azure waters of the Pacific. This beachfront access allows for a plethora of water activities, including swimming, snorkeling, paddleboarding, and kayaking, creating endless opportunities for relaxation and adventure just steps away from home.
For avid golfers, Kukio presents a golfing paradise. The community is home to an exceptional 18-hole golf course, expertly designed by renowned architect Tom Fazio. This picturesque course has garnered acclaim as one of the finest in Hawaii, captivating players with its challenging layout, mesmerizing ocean views, and rugged lava rock landscapes.
Kukio Golf and Beach Club offers more than just golf and beach access. Homeowners gain exclusive membership to the private club, granting them access to an array of luxurious amenities. The club features an elegant clubhouse, state-of-the-art fitness center, rejuvenating spa facilities, tennis courts, and exquisite dining options, ensuring an elevated and refined lifestyle.
Embracing sustainability and conservation, Kukio places great emphasis on preserving the natural beauty of the area. The community implements a comprehensive conservation program, dedicated to protecting and restoring the indigenous flora and fauna, including the preservation of sea turtle nesting sites. This commitment to sustainability ensures that residents can revel in the unspoiled beauty of their surroundings while supporting ecological preservation.
Immersing oneself in the cultural richness of the Kona Coast is effortless from Kukio. The area is steeped in Hawaiian history and traditions, offering residents the opportunity to explore nearby historical sites, partake in cultural events, and engage with the welcoming local community. From hiking scenic trails to venturing into ancient lava tubes, the Kona Coast provides an abundance of outdoor adventures. Additionally, residents can visit the nearby Pu'uhonua o Honaunau National Historical Park or indulge in thrilling water sports such as deep-sea fishing and whale watching.